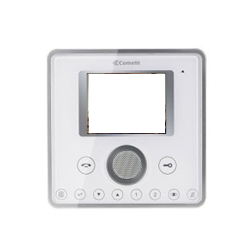 Intercoms, Entry Systems & CCTV
There are many occasions when it is convenient or more secure to see or speak to a visitor before letting them into your premises. Entry systems can be either audio only or audio and video so you can see as well as speak to your caller and remote unlocking of doors, gates or barriers is a feature of most entry systems
A Practical use would be in a block of apartments to speak to visitors from your apartment and unlock the entrance door without running down the stairs; this is more for convenience than security.
A more secure use of an entry system would be a cash office or other sensitive area that needs to restrict access and be confident of visitor's identity before unlocking the entrance door.
Entry systems can also have a digital code entry panel or remote wireless unlocking to make it more convenient to unlock the door, gate or barrier from outside.