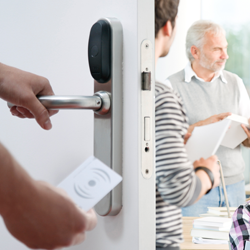 Why Use SALTO Access Control?
SALTO invented the SVN (salto virtual network) in 2001 and it has revolutionised the access control industry.
With Salto virtual network you can now install access control to any door without the costly wiring for power and network connections, the virtual network is now the user who by opening doors transfers data from lock to lock as they use the building creating an audit trail and deleting cancelled or lost keys.
If you have a conventional metal key system you will understand the problem if a key gets lost or broken, particularly if it's a Master Key because all locks will need to be replaced to maintain the security of the premises. Salto virtual network allows you to control your own system, you can enrol a new user or replace a lost key within seconds without any need to visit the doors or replace locks saving many hours that will be costly and inconvenient.